Fixit - Car Scratch Repair Pen
Customer Reviews
Did cover scratches and was happy with the results
Easy to use, i loved it work great i will buy again if needed thank you so very much
Works great! The scratches have disappeared.
Was easy to use I tried it on light scratches It worked beautifully Thank you
It is better than anything else out there on the market to date. It was easy to use and the results were a great deal better than all the other items we have tried. Thank you
I was extremely skeptical but I had scratched my husband's car and really wanted to fix it. I had quite a few scratches on my car as well (old car). This product completely filled the scratches. I could not believe it. It totally does what it says.
IT WORKS PERFECTLY! My vehicle is 5 yrs old. Over the years, it has acquired several scratches in multiple places. When I used the product, per instructions, it truly looked brand new. I even tried it on the marks under the door handles, which had multiple scratches from the car keys. I absolutely recommend this amazing product to anyone who would rather not pay a fortune in car repairs. I believe everyone should have one on hand.....you never know what might happen.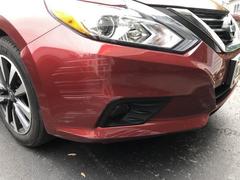 I barely touched the concrete post with my bumper as I turned around in the parking lot. As I got out of the car later I expected to see a little scratch, but what I found were about 12 to 15 parallel lines about 4 inches long...this was a lease car and scheduled to be turned-in within six months and I didn't have the $ 900.00 it would take to repair it. The scratshes were obvious from 25 to 30 feet away I later saw your ad on the internet and figured I had nothing to lose, so I ordered your pen. Two weeks later the package arrived, and I went outside to see what the pen could do...IT WAS AMAZING. From 6 inches away, the faint lines were still visable, but four feet away they were gone! I am COMPLETELY satisfied!!
Fast ship to USA. Used this to touch-up spots on my 2004 car. Great item. Would recommend. Thank you!
Its working. But the scratc is ther. But you dont see it
Arrived ever tested efficient