SafeRoad™ Magnetic LED Safety Flare
Customer Reviews
08/06/2020
I recommend this product
This is a truly AMAZING product! I am impressed with many of its qualities, especially when I compare it to other similar products out there. First of all, the LED road flares are of a very good size and very bright, exactly what you need for portability (since they take little space in the car) and safety. The various lighting modes are very useful and the mode used last stays in memory, in case you need to use the same mode again (so you don't have to scroll down each mode). The case the flares come in fits them perfectly, without being too tight, is of good quality and prevents them from getting tossed around in the car, which they would if they would be loose.
07/31/2020
I recommend this product
Love these flares! Ordered a set as my car is getting older so I think it is best to be prepared in case of an emergency. Tested them out in the garage, and the flares are really bright! Many different lighting options and I was thrilled to find that they even have a flashlight setting! They stick great to my car and I feel confident that I will be visible to other drivers if their use becomes necessary. They come with pre-installed batters so ready to use as soon as you get them. Also love that they come with a mini screwdriver and a convenient storage case for the car. Definitely recommend these for every vehicle.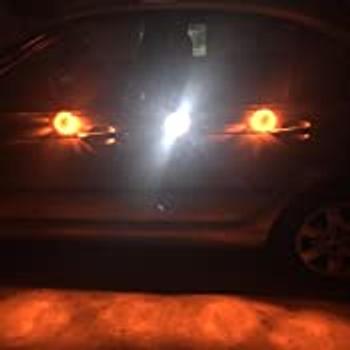 07/17/2020
I recommend this product
Appears to be quality made and was packaged very well. The glass breaker and seat belt cutter was a nice bonus - hope I never need it but good to have just in case. I bought 4 sets - one for myself and the other three for my kids. We are all very happy with this product.
06/21/2020
I recommend this product
Wow!!!!! Nothing like I expected, surpassed them for sure! Can't say enough exciting things about this purchase, a definite glad I bought! Love, care in packaging, best I've seen ever! Plenty of information, nice tote to store and carry led flares in, along with a nice enclosed zipper pouch for tools to change batteries. Note: comes with batteries already in, and the quality of brightness, AMAZING!!!! There are SO MANY different light mode options! I'm estatic, as this has a designated permanent spot in my SUV organizer that stays in my vehicle, the safety tool, will stay in the console up front by me, for quick and easy access! Thank you, for making safety, convenient and user friendly!!!!
08/05/2020
I recommend this product
Sorry for the all caps headline- but I am very pleased and want to share my thoughts on these devices; First and foremost they came quickly- and the packaging was wonderful- there are little notes and thank you's in the packages which I thought was awesome: I love the feel of the "small family" business even on Amazon. A+ on packaging and came extremely quick delivery: when you feel these discs you know you are holding quality: they are not cheap feeling at all & the disc units appear to be of high quality- I love the way that they fit into the small bag (bag is also impressive on quality and perfect size and color- and the fact that the bag comes with a separate interior zipper pocket to hold the lights, extra batteries and the tools to change the lights (great idea) I bought two sets; one for my wife's car and one for mine ( I will probably be buying more sets as gifts as I have fallen deeply in love with these little things)
08/04/2020
I recommend this product
Lights are bright and well seen at night, however daytime use is poor in NM. Using as road flares these lights fall short. Vehicle's passing by these lights blow them over. Drivers report not being able to see them well during midday sun.
08/03/2020
I recommend this product
These little puck shaped lights are pretty nice, the box they came in was of high quality so the contents were in perfect shape on arrival. They come with the batteries installed and come with a couple of specific screwdrivers so battery changes are easy, they use AAA size batteries. They are quite bright and have multiple light setting patterns to suit most any user. The zipper case holds everything in one container and is compact, the mini kit also comes with a side automotive window breaker in case of water entrapment, these do work well and is good quality, come with mounting bracket or simply put in your glove box. The few recommendations I would have is to design a setting on the light that strobes a little bit faster then the current setup, strobe is a bit slow, other then that is perfect