GardenClub™ Solar Garden Fountain
Customer Reviews
05/28/2020
dale t.
Canada
This review is written as dictated by the birds who used my fountain. "We absolutely love the new solar fountain Marilyn put in a few weeks ago. The moving water is fun and helps keep our feathers looking their best. The fountain is so popular, there are often waiting lines throughout the day. We've asked her to put in a second fountain, but she has not yet complied with our wishes."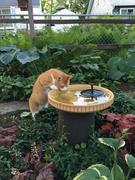 Great fountain! Works really well
I absolutely love my new solar birdbath fountain. I originally thought the solar panel would need a charge but, no, the water rose up through the tube immediately. The unit comes with 4 different nozzles. I also am impressed with the customer support of this company. I was emailed with continuous tracking information. I have already sent pictures to friends to tell them what a wonderful experience I had doing business with Inspire Uplift. I highly recommend!