---
Customer Reviews
08/20/2020
I recommend this product
Needed something for privacy purposes next to our hot tub to attached to the side of our deck. Worked great!! Easy to hang, I just used a large staple gun. The mesh backing is a nice addition, it really blocks out light seeping thru the Ivy. I purchased larger sizes for my chain link fence too!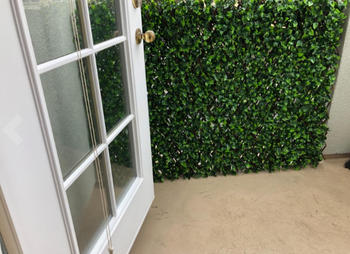 08/18/2020
I recommend this product
I didn't expect sections that have to be assembled, but if you read the description view the pictures, the screens are just a bunch of smaller panes that snap together. I guess this gives you some flexibility when installing them. Mine looked flat and artificial even at a distance until I laid a few panels outside in the sun, the leaves curled just enough to make them seem real from about 2 feet away. The panels look just like the pictures in the description after baking in the sun and they were delivered very quickly, so I'll give 5 stars. I bought enough for 2 layers (back to back) because they seemed to have about 70% coverage in the photos, and this should look good from both sides. I would buy again at the price I paid.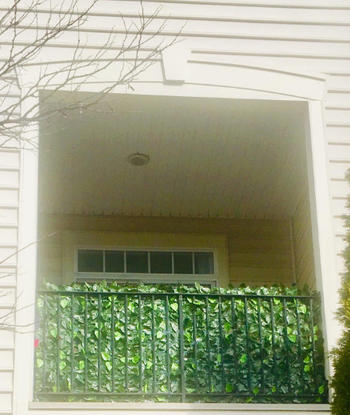 08/17/2020
I recommend this product
Like most reviews say, it looks good from a distance. I attached a close up photo of the wind screen and how it has lots of gaps that expose the backing. The leaves can be rotated to better cover the backing, but if not properly oriented there are visible gaps. The leaves are in pairs and are attached in the middle. They are attached using two different designs, not sure why, but one of the designs makes it quite easy to remove or fall off over time. My concern is after time in the sun, these will fall off, leaving various gaps. There isn't much overlap, so if you loose a pair of leaves, there will likely be a noticeable gap. I tried to use a broom to fluf it up, and it immediately pulled off some leaves. Overall, for the price, I give it a 4 for value, but a more heavily weighted 3 for quality and durability. It was very easy to use since it was in one big sheet. I previously used faux boxwood and that was very expensive due to the amount I needed to cover. And that stuff deteriorated after 2-3 years. Based on my initial impression, I'm hoping that this lasts at least 2 years, so I'll need to find something else then.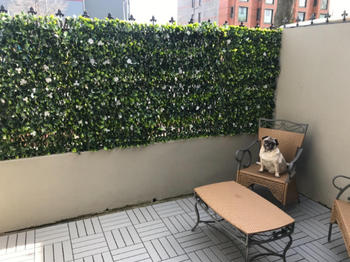 08/17/2020
I recommend this product
I 2007 I purchased some faux ivy to cover a back fence. The ivy was very real looking because it had leaves of varying color and shoots of different lengths. I tried to find more of that, but unfortunately the supplier that sold it does not carry it any longer. I searched for it but was unable to find it. I finally settled on this product. I purchased several of these and several of the "58.5''tall X 97.5" Long Artificial Ivy Leaf Privacy Fence Screen Decoration Panels Windscreen Patio" from the same supplier to cover an 8' tall fence. What I like about the product is the mesh screen backing. I provides a much better wind screen and masks the underlying surface very well. (With the other product I used some camo screen to accomplish the same thing).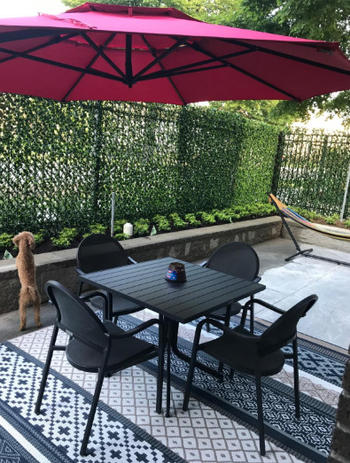 08/15/2020
I recommend this product
Only had the short ivy up for about a week and the tall ivy went up today. But so far very happy with both! We ordered the shorter height for our metal fence used to divide our side of the yard from our neighbors side (live in townhouse/duplex and share a yard) keeps our dogs from barking at theirs and blocks the construction happening on the tall side of the ivy which we used on the back fence. I've noticed the short side which has been up longer has started to slowly "fluff" so even though the ivy is pressed down after unrolling, the wind has helped fluff up the ivy. Used strong zip ties to hold up and smaller zip ties randomly through the center sections to prevent wind from overblowing and gaping, but so far because the green mesh is breathable we haven't seen any flapping or issues with wind. My husband even used a **** walker on the base where the grass was growing and it doesn't seem to have hurt the ivy part, but will update after a few weeks/months of use. Great privacy option for pets and neighbors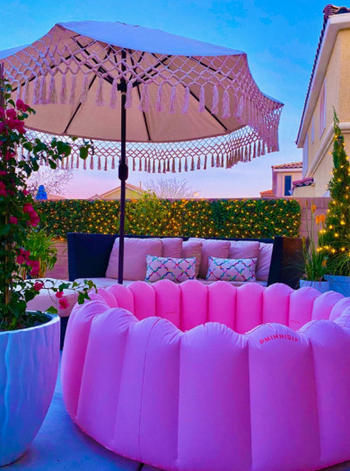 08/12/2020
I recommend this product
I purchased two boxes to cover some damaged and boring lattice in my backyard! I am hoping after being out in the elements it will begin to take on a natural look. I think the project turned out great.
08/16/2020
I recommend this product
A great product that I used (See photos) to cover a pergola. Using this product for this purpose worked so very well. I purchased the one with the shade backing and it works great to provide shade from the sun. I had to cut and tie together more than one. Could not have done so without ordering the bag of 500 green plastic cable ties. Probably used a couple of hundred of these. You do need to be careful about where you cut. But generally the product is strong enough to cut and join them to fit whatever you need. It's not so much that someone looking at them wouldn't recognize that this is not real ivy but it is close enough and attractive enough to provide a good alternative.
08/13/2020
I recommend this product
YES, some leaves fell off and it was easy to put them back on. This was much better than the black roll out privacy screen. WE are very happy with it!!! We debated whether to use lattice or this, this is so much better because now people can not look over our five foot fence while we entertain or swim!