Sew N Stich™ Cordless Mini Portable Sewing Machines
Customer Reviews
I recommend this product
I have a "real" sewing machine but I never actually use it because it is really far too much to set-up just to fix a quick hem or tear in a toy. I love this new, really easy to use, handheld sewer. I can run this right along whatever existing stitch to match up the location and easily bridge over tears. I find myself much more willing to fix things rather than replace them when it is much easier. I will probably sell my real machine now.
I recommend this product
Fast Sew but don't know how zakonczyc seam lest Sie not prulo.ciezej dziala for thin matetiale. Thick Igla dosyc
I recommend this product
Easy to use. Nice one without any problem after practice. Used to sew my broken jeans. So far works well. It came with a log bundle include sewing line and scissors. Battery powered with adapter. Single button with locking switcher. The locking switcher is not good to seal. I always forgot to lock it. After several practice I have done it finally. Helped me a lot anyway.
I recommend this product
I've wanted a sewing machine in my apartment for a while but don't really have the space for it. There's a learning curve to it and I don't think I'll be making a quilt anytime soon, but should be good for mending items when needed..
I recommend this product
Bigger than I thought it would be but still comfortable to hold. Instructions are clear & seem easy enough to follow. Arrived with a sample swatch already in the machine for some reason? Also includes an extra needle, bobbin extender, needle threader, and two extra white bobbins. Looking forward to testing it out!
I recommend this product
machine works well and creates even stitches, but only on certain materials. it won't work on lighter or stretchier materials. I tried to hem a t-shirt but the fabric would get caught in the machine. There doesn't seem to be any smaller needles produced to solve that problem. Getting the fabric under the needle and taking it out once finished can be difficult at times. But overall it's a nice machine for the price.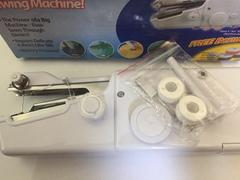 I recommend this product
I'm glad I bought this sewing machine by hand. It's light and easy to carry. Even for a novice like me, it's easy to operate. It applies to any material. I used it to make some clothes for my daughter's doll, the effect was very good, my daughter was very happy. I'm so happy to be at home, sewing with my daughter.
I recommend this product
This compact handheld sewing machine is well made and works exactly as it is supposed to. The box comes with a bunch of threads, scissors and bobbins. It is straightforward to use, and instructions are straight forward. You can easily carry around when you are traveling. I look forward to using this for my small craft projects as well. Great purchase!