---
Customer Reviews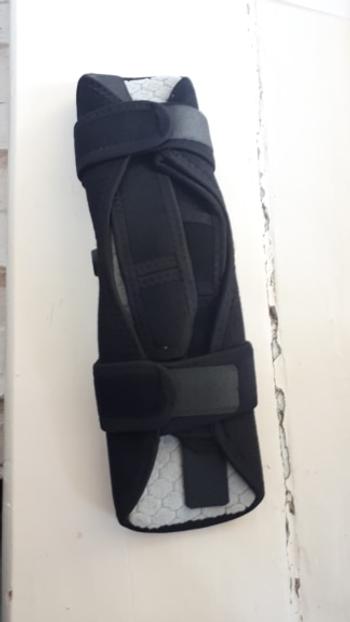 07/07/2020
I recommend this product
I have multiple ligament injury in the right knee due to car accident. 1- the built-in stocking under sleeve of thick material makes it very comfortable to my sensitive skin + its pressure on the skin gives you the stronger feeling of stability. 2- the hinges sticks to my knee side strongly which makes it very stable. 3- no more down-slipping ! Old braces used to slip down my leg to lower position after long walking. 4- the price is very good compared to my other I am really happy that I am finally finding my long term brace!
07/12/2020
I recommend this product
Just buy it! Seriously!! After finding out I have a torn meniscus and small patellar tendon tear, I wanted a good brace that was comfortable and gave all the relief I needed. After trying other braces of different brands and price (ACE, McDavid, and a couple others) this was a big step up in price, but it works SO well!! I don't do hard impact sports anymore, but this brace would live thru them all!! Oh, I can also fully bend my knee in this brace, couldn't with any other brands... Buy once, cry once... You won't regret this brace!
Anonymous

Mt Vernon , NY
07/10/2020
I recommend this product
I bought this brace thinking it would give me stability for playing basketball, I went for the measurements on the chart and ordered the brace. When I received the brace and tried it on it was too small even though I got the size from the measurements on the chart I didn't think much about it so I used it for basketball practice, I do have to say the brace is comfortable, but since then I would say my knee has buckled about three times. Every time I would adjust the brace so that the hinges were actually on the side of my knee instead of the front. First two weren't all that bad the third buckle completely made me lose confidence on playing with safety while having this brace on. If buying this product make sure that if your measurements are at the highest of one size to jump onto the next size available, don't make my mistake.
07/09/2020
I recommend this product
.This Knee brace works great. I have a pile of other knee supports but none of them have the Full stop Hinge. I hyperextended my knee and it's been killing me for over three weeks. My knee measured 17 inches so I was right on the extra large size which fits OK except for the upper leg is too large but it can be adjusted to fit . My leg has shrunk since I injured it and I am not overweight . I can walk much better using this brace and it will prevent me from further injuring my knee while I am forced to work with a sore knee hopefully .
07/04/2020
I recommend this product
I just went back to skiing almost one year post-ACL replacement, and the brace worked wonderfully. It was very easy to pull on and off, and provided great support while skiing.
07/03/2020
I recommend this product
Very good quality knee brace, especially if you have ACL Knee issues. Really effective at limiting the range of motion and possible re-injury. Quite a easy to put on and remove... make sure you size yourself properly... and be aware that Donjoy makes many different types of Braces that may more effectively manage your particular knee condition. See a Specialist first for a proper diagnosis and prescription.
07/03/2020
I recommend this product
This is great brace. It was less bulky than I thought; yet strong enough to keep my knee compressed and snug enough to keep my knee stabilized. This is one of DonJoy's top-of-the-line brace outside of a custom made brace but I wanted something that would make me feel secure and confident and not worry about re-injuring my ACL so I probably got more than I needed. So far it's felt great! My knee feels secure and well stabilized and I'm finding myself forgetting that I have it on. Its helping me feel more confident about making those lateral moves during sporting actitivities. Material looks very strong and durable. It's a bit pricy but I'd like to think I'm paying for the quality and protection it's advertising. So far...very satified.
06/22/2020
I recommend this product
I really like this brace. Best one I have worn yet. I have a completely torn ACL and have 6 weeks until surgery. I have been experiencing a lot of slipping/ hyperextending so needed a brace to help. The stability this brace provides is exceptional, however the hinge is constantly scratching the inside of my opposite knee. I think the hinges need to be padded all the way around. Other than that great brace for the price and would recommend. Sizing chart was accurate for me and I am a size small, calf size is the most important piece I think.
06/19/2020
I recommend this product
Just got it and for the first time in a year, I could walk for 3 miles without any pain. I had a knee replacement and a revision on the same knee which resulted in hyper extension and constant pain. the brace keeps the knee from hyper extending thus allowing me to walk normally, even on uneven surface like grass fields and dirt roads. My only reservation is that need to keep tightening the brace every 30 minutes or so of walking.
06/11/2020
I recommend this product
Post surgery my sons surgeon tried to fit him in the brace we ordered after his accident and discovered it was defective. snappyfinds returned my money no questions asked!