Kids Anti Blue Light Glasses
Customer Reviews
I recommend this product
I was nervous my son was spending too much time with screens because of this and noticing his sleep seemed worse on days we couldn't go outside and play. I am really glad I purchased these blue-light glasses for him, I personally use a similar type for work and knew it helped me so I figured it was worth a shot. He absolutely LOVES wearing them, he thinks he looks super cool so it isn't a struggle to get him to wear them while he is using screens at all.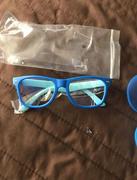 I recommend this product
My five-year-old nephew loves to play video games on my phone. I've been worrying about his vision and how often he plays, but he enjoys it too much for me to say no, so I compromised and got him these glasses instead. Before, he would rub his eyes as if they were hurting, but now I've noticed he doesn't do it anymore. He says the glasses make him look like Blippy and won't take them off anymore, even when we need him to lol no ragrets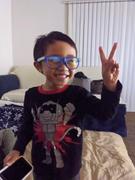 I recommend this product
Beautiful and my daughter says have relieved the use of PC.