SMART-K9™ Sport Backpack Carrier
Customer Reviews
07/11/2020
Mindy Y.
Tempe, AZ
I recommend this product
Excelente calidad, muy resistente, lo único malo es que viene muy reducida a pesar de ser tamaño L
I recommend this product
I've been looking for a backpack that I know would fit my corgi. She fits perfectly in the medium (her measurement was 17ish inches) and she seems to be pretty content. It took a little coaxing to get her in it, but once I put her feet through the holes first I was able to get her body inside. My dog is a little bit smaller than average so if you have one you might want to get the large first. The only reason I took off a star is for the straps. I know that after a little while I'll start to feel rather uncomfortable.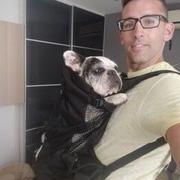 I recommend this product
This thing is awesome!! I ordered the Large and it fits both (not at the same time obviously) my 22 lb and 36 lb pup comfortably. My 22 pound uses the 3 inch booster seat that is sold separately. I love the vented sides, and the thick scratch proof material. I just wish it came with some instructions. There's two "arm holes" on each side?!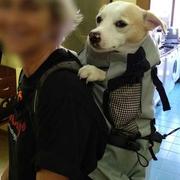 I recommend this product
Flossy is a chubby 11 year old mix, who loves countryside rambling with her family, but is getting a bit arthritic and sometimes just .... stops. So after a couple of miles we pop her in this backpack for a half hour rest, then she's ready to go walking again. She is very comfortable (to the point of falling asleep) and seems totally happy in it. When she's ready to come out she wriggles around a bit. Only improvement would be a hip belt to take some of the weight - it is pretty heavy on the shoulders/back of neck.