Hydro Massage™ Rechargeable Muscle Stimulator
Customer Reviews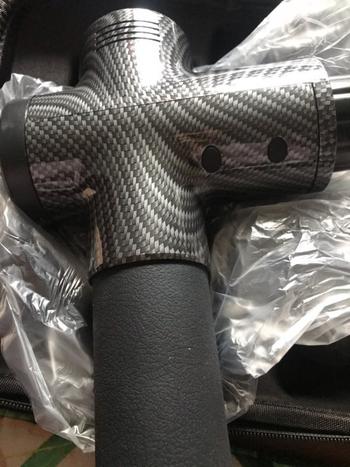 08/21/2020
I recommend this product
One of the unfortunate side effects of getting old is pain in nearly every part of my body. I have also started a fitness journey and I often times find myself so sore I can hardly move. I see these massage guns all over social media and used by athletes but I never really understood what they were for or if I would even benefit from using one... considering my rigorous workout consists of 20 minutes on a stationary bike and a few squats here and there. After a lengthy conversation with my friend who uses one, I decided to try one out for myself. I'M SO HAPPY I DID! I'm sure results will vary for everyone and it is a very powerful machine so please do your due diligence with your doctor, but I was having pretty bad pain in the muscle above my knee for months now. I'd massage it by hand every day and it would stop the pain for a few minutes and come back. I put this machine on the middle intensity speed of 10 and massaged that area for about 60 seconds. The pain was gone. 100% gone. The relief lasted all night as well. I'm completely blown away at how great I feel. The pain came back this morning and I used the gun for another 60 seconds and the pain subsided once again.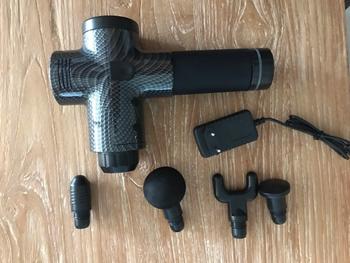 08/20/2020
I recommend this product
Great for athletes. I do weightlifting and cross training and since massage guns became popular, I really wanted and knew I needed one. I finally found one with great specifications and an affordable price. What a difference it has made in my workouts! I recover quicker and I can tackle at workout the next day. If I feel sore, I engage in 10-15 minutes of using the massage gun and the soreness and tightness is gone. It comes with different attachments which is great for different muscle groups, and the battery lasts long! I've used it for 4-5 days and haven't had to charge it yet.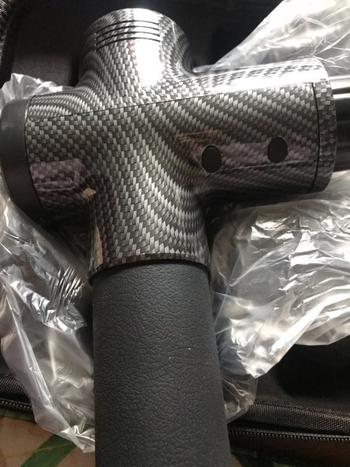 08/19/2020
I recommend this product
It could have come in a nicer box for the original price of $200, but the device is quiet and powerful. Already had it used on my back and it was awesome. Waiting for a full charge to use it for longer, but the first impression is: WOW! Update: burned through two battery charges, love it, sold the idea of getting one to a friend, and three to co-workers - you're welcome!!
08/19/2020
I recommend this product
I was so excited to use this product initially, but I soon encountered many issues. Like others have mentioned, the OFF button on the bottom of the device doesn't not work/works intermittently. This means the bright green light on the bottom is always on, and it drains battery like crazy. The biggest issue though, is that now my device WILL NOT CHARGE. It is obviously out of battery from the fact that the power button doesn't work and now when I plug it in, the device will turn red like it's charging, but after an entire day of being plugged in, it still shows as not charging. I have tried to follow up with the seller but they have been totally UNRESPONSIVE and have not helped me at all. I paid $180 for a useless piece of plastic that literally doesn't nothing.
08/19/2020
I recommend this product
Perfect for people who depend on their physicality at work ! I dont exercise but work like a horse, i basically run two businesses ! So i require some deep tissue massage and i prefer this than going to some professional, i usually get my wife or kids to help me out on tough parts of my body ! Thank you
08/18/2020
I recommend this product
My first time I used this, I used it on an old knee injury. I had surgery on my knee 20 years ago and have had a tightness in my knee area ever since. This caused pain, inflammation, and stiffness. The morning after I used my Flyby F1Pro Gun I got out of bed and felt a "release" of what I assume was the surrounding muscle tissues and most of the stiffness went away. There is still a bit left, but I can bend my knee more easily now and most of the pain is gone. I'm a 64 year old woman and this has been such a help with so many of my aches and pains.
08/18/2020
I recommend this product
The gun is awesome for pain relief and post-workout recovery. The construction and feel is well done. The battery is very good and doesn't lose charge over time if you leave it in your gym bag. The attachment selection is perfect for any ache or pain. The only drawback is the noise. There is a very loud clicking. I'm assuming it's the tool on the side of the machine. Def not a deal-breaker considering the price but still a downside.
08/16/2020
I recommend this product
I went to my chiropractor where he used something similar and it did wonders to my back. After research I picked this one based on price and reviews. It worked just as well with amazing results. I'm sure my chiropractor got high end ones triple the price