Kitchen Oil-Proof Stickers
Customer Reviews
I recommend this product
I charm excellent quality
I recommend this product
I really love it. It goes very well with what I have in mind for my kitchen. Thanks for getting it to me fast . I will post photos of my kitchen when I'm done. But one more thing I will be purchasing more because I didn't realize I needed more than one so look for a new order soon. Thanks a lot.
I recommend this product
Just ordered my second 24 x 196 roll. Used for insert on cabinet doors and backsplash in the laundry room. Under sink liner.
I recommend this product
Love this stuff. Just make sure the material your sticking it to is cleaned first. Makes the best difference.
I recommend this product
Love this, easy to use on shelves, on wood also. Just make sure u use some other glue for natural wood that hasnt been manufactured, I need to get more...... Also u can use it as anything which is good. Make sure u clean down ur surface and add a little more clear glue in corners if u dont plan to remove it also make sure u have something to smooth it out so can be with no bubbles and stick well .......when i am done with my project i will submit photos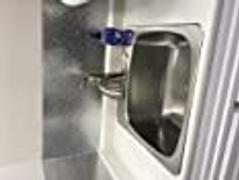 I recommend this product
This thing is good, but not easy to sticks on the wall.
I recommend this product
This looks extremely cool. I really liked the shiny foil 3D look. It cleans very easily. But.....Its a bit difficult to work with. Make sure you have it positioned exactly where you want it because if you get as little as 1.5 inches against any clean surface.....Its stuck!! Yes, as described, It is removable. But if you are just trying to pull some off for repositioning ....It stretches which causes wrinkles when reapplied. Once it wrinkles, Its all over. Pull it all off. Start over with a new piece. Im still giving four stars because it looks very cool.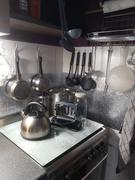 I recommend this product
The film is beautiful, corrugated, not yet glued but I think it will look great!
I recommend this product
The adhesive is actually very good and sticks well. We used it on a camping stove in our pop up to protect from grease splash and spills on the top of it which is also part of the counter. Makes clean up much easier and goes on super easy.
I recommend this product
All norms. Matching with description. I did not try it.