Portable Travel Door Lock
In stock
Are you sick of being barged in on while in a bathroom with no lock?
Or maybe you're sick of your kids opening up your bedroom door… The Portable Door Lock is a portable door lock, that lets you add a lock to doors that don't have locks.
With the Portable Travel Door Lock, you can rest easy and have peace of mind knowing that your door is securely locked.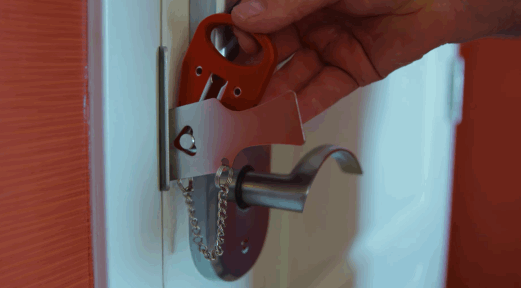 This revolutionary lock will change the way you travel. This provides you peace of mind when the integrity of the door lock is questionable or where multiple keys may be issued for your room (hotels, offices, dormitories, etc).
Door Lock Features:
Provides a layer of security and peace of mind while you're inside the room
Resists forced entry even if the door does not have a lock
Portable door lock that installs in seconds without any tools required
Can be used at home or take with you when travelling
Great for students away at college and for those same colleges and schools
With the Portable Travel Door Lock, you can enjoy personal security no matter where you are.