---
Customer Reviews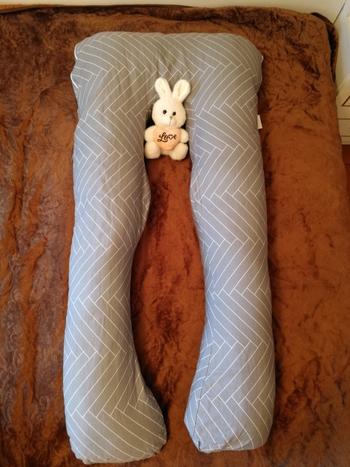 06/25/2020
I recommend this product
Warning to men, your wife is going to be obsessed with this gargantuan pillow. I ordered this pillow for my wife because she was pregnant and kept waking up on her back and wanted to make sure that she stayed sleeping on her side during the pregnancy. The reviews looked good so I thought this would be a good pickup. Little did I know the enormous size of this pillow that creates a great wall in our bed separating me from my wife. This thing is massive and my wife is absolutely in love with it. She says it supports her back and is so comfortable that she can't sleep without it now even though our son is a month old. I think the worst part is we moved across the country and I was stuck lugging this massive pillow from hotel to hotel with my little 4 foot 11 wife running after me yelling that her goliath pillow was dragging on the ground. I give it 5 stars because she is in love with the thing, but just be ready to not see your wife in bed anymore. You may want to think about making some cup and string walkie talkies so you can still communicate with each other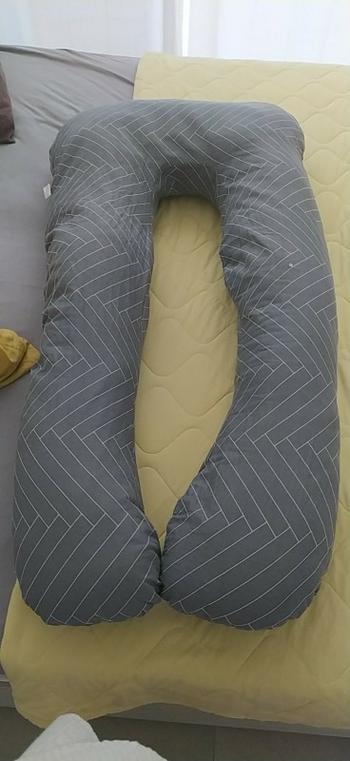 06/24/2020
I recommend this product
My pregnant wife loved it after using the pillow for 3 months. I removed the pillow cover and tried to put it on and it tore. Wasted 60 bucks. I would give it 5 stars if it wouldn't tore.
04/10/2020
I recommend this product
It's fine! The product came in less than two weeks in the shrines!!! I am satisfied and most importantly that the quality is good, the case on the composition of cotton! Thank you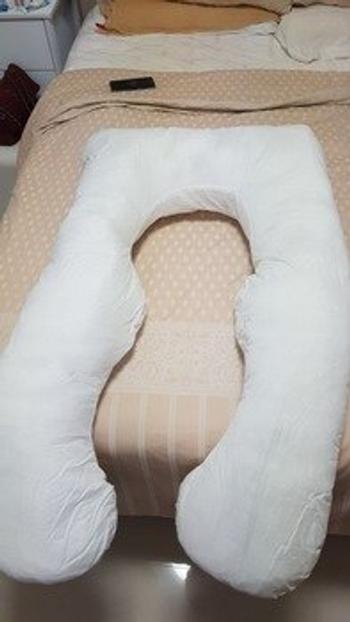 04/04/2020
I recommend this product
I'm 29weeks pregnant with my 7th child. My poor body has obviously taken quite a beating. First night with this pillow, I literally passed out as though the angels came from the heavens and rocked me to sleep. I'm very pleased with my purchase.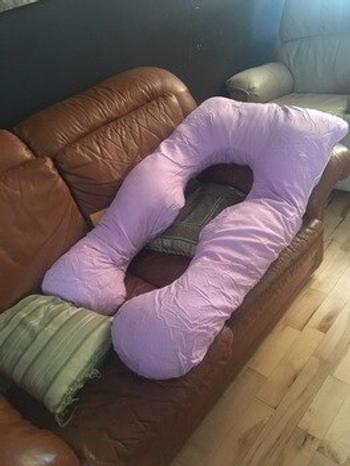 03/24/2020
I recommend this product
I purchased the Leachco Snoogle Total Body Pillow, Ivory the end of May 2017 when I was about 17 weeks pregnant and I have had over two months to use it now. I loved the pillow at first and from the reviews I thought it would be my miracle since I already haven't had the easiest time adjusting to sleeping on my left (which is optimal for pregnant women). Unfortunately, it wasn't that simple for me and that may just be because I'm more complicated…for starters I've trained myself to sleep on my back for over a year since I was told that wouldn't grind my teeth on my back (which is true for me) and plus it's comfortable to me. As far as the total body pillow goes I think it's worth a shot, washing the cover once I got it wasn't as hard as I thought it would be to get back on but having two people do it is advisable since it is awkwardly shaped. Using the body pillow was also awkward for me I would still roll to my back a lot, the pillow is bulky in my opinion so even after I fell asleep I would wake up and have kicked the body pillow away from between my legs and would find my head on my mattress since I'm not used to sleeping on bulky stiff pillows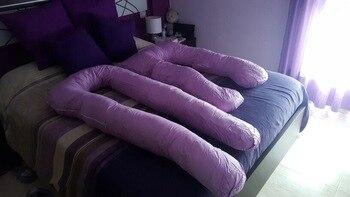 03/16/2020
I recommend this product
Thanks for the cute and compact packaging. Broke up fast, and stuffed like normal. In bed the truth has not tried yet, but if there is little, to extract easily. A separate Thank you for sending out the pattern that I ordered-in close proximity wonderful rabbits. Despite the delay of sending because of the virus, in the end came quite quickly: in two weeks. In general, very pleased. I recommend
04/19/2020
I recommend this product
I ordered this pillow nearly 3 months ago in my first trimester. I bought one used during my first pregnancy and I slept so well with it, I decided to order a new one this time. I was a back sleeper before I got pregnant. Trying to side sleep was hard on my hips, and I would always wake up on my back. This pillow has made a huge difference. I never wake up on my back anymore. I can comfortably sleep on either side. Since the pillow wraps around my body, I don't move the pillow at all during the night when switching sides. I'm 5'6" but there is plenty of length to the pillow; it should still wrap partially around much taller women. I have washed the cover twice now, and it isn't too difficult to get on and off.
04/17/2020
I recommend this product
I don't know what everyone's eating with delight! Little pillow. I'm 160 cm high. The pillow is poorly filled like the intestine. When you throw a leg on her, you can't feel it almost under her leg. I think this is something else to fill her up. The pillow is a niche for my five-year-old daughter, and I'm a little girl. And who grow up there is nothing to do here. And the quality of norms. No smell.