Enhance the beauty of your garden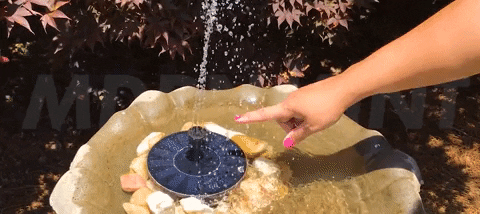 The GardenClub™ Solar Garden Fountain can be used anywhere and it runs on solar power, which means there's no maintenance, ugly wires or time consuming set up. This makes it the perfect decorative accessory for any backyard, garden or home this Spring and Summer! 

This solar-powered cordless fountain kit is made up of highly efficient solar panel and new brushless pump. Start-up fast, efficient and strong stability.
In addition, it floats on the water and has no electric outlet or external battery. These fountains are suitable for bird bath, fish tank, small pond, and garden decoration!
How to Use:

To use, simply place the fountain into the water, with the solar panels facing up and into the sun. The fountain will automatically run, every day. Attached to the bottom of your garden fountain are suction cups that can be adhered to the bottom surface of your birdbath or pond, keeping it from floating around freely.
Main Features:
Runs automatically, no battery or electricity needed
Suitable for bird baths, fish tank, small pond, garden decoration,

 

water circulation for oxygen
Easy cleaning; easy reallocation,

 

no plugs required, small and compact
Multiple fountain heads for different water patterns
Diameter of Solar Panel: 6.3 inches (16cm)
Max. water height: 30 -50 cm
Specifications:

Product Size
6.29 x 6.29 x 0.71 inches
Product Weight
9.17 oz (260g)
Package Component
1 x Fountain Kit, 4 x fountain heads