---
Customer Reviews
07/23/2020
I recommend this product
They came in a blister pack and placed in a small box wihtout packing material, none was needed, it's a tool. I have used it for crimping insulated electrical blade connectors and the barrel connectors from the small reds to the big yellows and they have made a solid crimp each and every time. It makes a double type of crimp that is much more solid than the single crimp from the scissor type crimpers. I have used them in automotive wiring and in household electrical wiring projects and love the one handed operation and the solid feel of the resulting connection. The price was reasonable compared to other crimpers and the feel of the tool is solid making me believe it will last for years. These is no play in the working of the mechanism and it seems to have a high build quality. I am considering another purchase of this tool for my shop because I have to go to the work van to retrieve this one every time I need it at home. I am happy with this tool and will not go back to the old way of crimping with a cheap single crimp scissor type crimper.
07/09/2020
I recommend this product
I used to have problems with my old single iron cheap grade crimper, It always seemed to crack the insulation or not crimp right (loose). THEN I decided to bite the bullet and buy this, Fantastic! and even a novice can do a great job with no guesswork on the amount of pressure and a good positive dual crimp design makes it foolproof. I am kicking myself in the butt for not buying these years ago.
06/19/2020
I recommend this product
These are very nice crimpers These work very well and I have no issue with the release. Easy to release. I added a bit more clamping force from the default setting using heat shrink connectors but for normal connectors with the plastic sleeves the factory setting in the middle was perfect. I'm using these to update the wiring in my 1969 Ford. I replaced anything done with my old crimpers, this one works that good!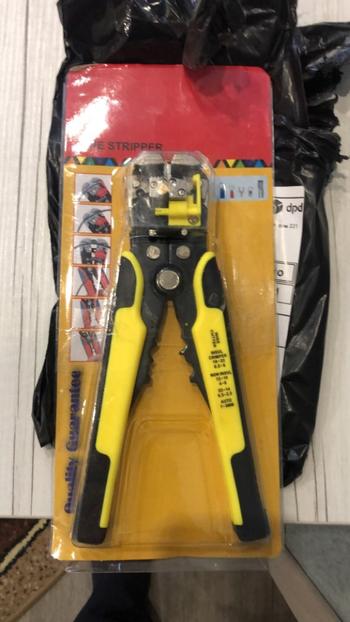 06/17/2020
I recommend this product
Solidly built and sturdy tool. Feels good and comfortable in the hand. Makes solid crimps repeatedly. I did notice that on occasion using blue terminals they would wiggle slightly, but couldn't pull the wire out of the crimp. Just gave it an extra squeeze and tightened right up. I think that is just the terminals I'm using, not the tool. That happened maybe three times out of about 50+ crimps I've done so far. Overall this is a great tool for the price. Highly recommended!
05/27/2020
I recommend this product
For years we struggled with the automotive-type crimping pliers. They just don't do a good job! These ratchet crimpers work properly every time. This tool is identical to those costing much more. It is very heavily-built so should last a lifetime.
07/23/2020
I recommend this product
I read many of the 1 and 2 star reviews AFTER I used this crimper on various electrical connectors. From my experience, the type and quality of connector you use makes a BIG difference. I have some low dollar steel import crimp on ends and they didn't crimp very well. Some of the yellow connectors would not crimp completely. I had to put the Titan crimper in a bench vise to get it to compress fully because I didn't have enough hand strength to compress the crimpers all the way. I'm a 6'1" / 220 pound weight lifter who can shrug 495 pounds on a bar - it's not a hand strength issue.
07/20/2020
I recommend this product
As a retired aircraft electrician I am more than familiar with hand held crimping devices. This crimper has a smooth and efficient ratcheting mechanism and provides a uniformly even crimp area to the splices I have used it on. The handle is quite comfortable and the leverage is quite adequate to properly crimp AWG 10 splices. Overall I am very pleased with the initial quality of this tool.
07/20/2020
I recommend this product
This is an excellent crimper for heat shrink butt connectors. I like this set because all of the crimping jaw surfaces are rounded for protection against puncturing the insulation on connectors. Full disclosure, I use these exclusively on my own heat shrink butt connectors,
07/16/2020
I recommend this product
I searched all over for a crimper for uninsulated lugs that wouldn't break the bank. This one has 5 die sets including four for uninsulated lugs and one for the red, blue, yellow insulated lugs. The various die have from three to seven lug sizes. The rachet stop is adjustable so you can set it to release sooner if it crimps too tightly for your needs. I use this to crimp large and small molex pins for electric scooter batteries. Awesome price for this tool with zippered case and adjusting tool. The quality is very good for the price.
07/14/2020
I recommend this product
Very good tool, insulation removes perfectly